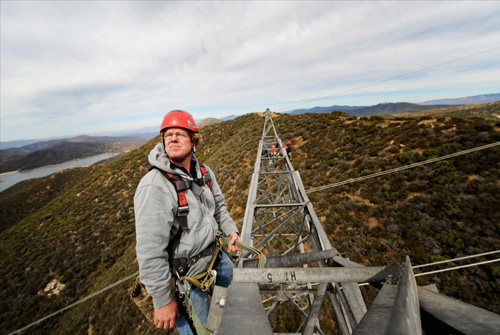 [Note from Brad: This is the first in a series of guest blogs from National Geographic photographers. Check back over the coming weeks for more stories about shooting for the prestigious publication!]
Crossing the Yellow Border
Kudos to Brad and Scott for devoting blog space to a series of posts by National Geographic shooters.
I've been shooting for "the yellow magazine" since 1987, and that land beyond the yellow border is indeed a wonderful, and strange, place. It contains and defines the entire realm of shooting experiences—impossible odds, magnificent occurrences, unprecedented access, nearly unbelievable bad fortune, outright danger, the exhilaration of the hard won chrome or file captured, and the devastation of bad days, or even weeks in the field.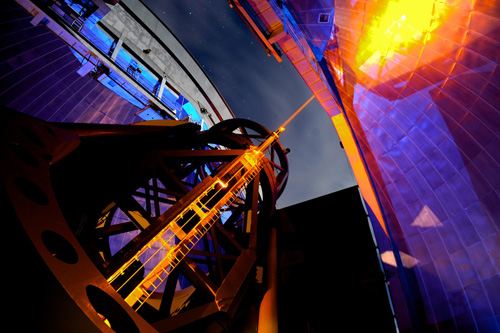 The Palomar Telescope fires a laser 60 miles into the heavens.
That place, "in the field," can be the urbane and sophisticated streets of Paris, or someplace literally so remote as to have never felt the footprint of man. It can be the ultra-sacrosanct tombs and structures of societies time has all but forgotten, or the blinking, humming computers that power our most modern technologies. The magazine's official mission statement is "to increase and diffuse geographic knowledge." "Geography," for the editors there, generally encompasses both physical and cultural geography. People and their places. People in relationship to the planet. The planet itself, in all of its' magnificence, and wreckage. The earth, sea and sky, and all the organisms those elements nurture, and occasionally, punish.


Over the Keck Observatory on Mauna Kea, Hawaii. I found that my fingers didn't work so well trying to load a 617 Pano camera with 220 film in an open door chopper at 14,000 feet.
In short, everything. Trust me, I know this first hand. I was once given a story to do called "The Universe." Yikes. (To my editor, I was like, "Okay, how long do I have to shoot this?")
I was already an established "New York" shooter, with covers of Sports Illustrated, LIFE, Time, Newsweek, New York, etc., by the time I came to the attention of the yellow border gang. Strategizing to get an assignment, I turned down a go everywhere credential to the Seoul Olympiad for Sports Illustrated to honor a commitment to a week long freebie speaking tour called The Flying Short Course, sponsored by the NPPA. Sounds unbelievably stupid, right? A freelancer turning down a month of day rates to keep an obligation to do a series of free lectures.
On the face of it, yes. But the method to my madness involved being on the same touring faculty as Tom Kennedy, then DOP of Geographic. I had the opp right then and there to show my portfolio to Tom, five days in a row. I gulped, said no to SI, didn't' go to Seoul, and instead went off to lecture. At the end of that week of touring and talking, Tom looked at me and said, "You should come down and start shooting for us." That was 1987. Still shooting for them. Finished my last assignment this past summer. Almost 25 years, and lots of yellow boxes, and pixels, later, I'm still out there, trying to increase and diffuse.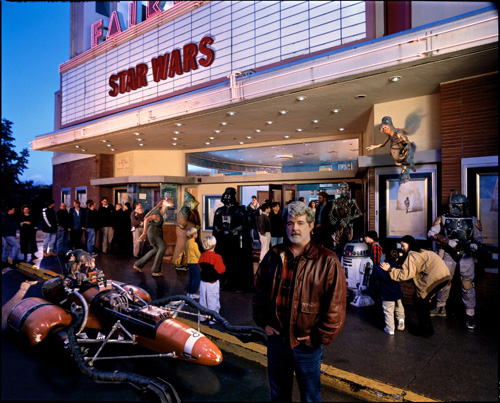 For a story on Global Culture, i needed a global storyteller. Who better than George Lucas? I wanted George Lucas to simply be part of the tableaux I created outside this old theater, but it didn't quite work out that way. George is front and center, surrounded by his creations.
That longevity was not a given, to be sure. It never is in the world of freelancing, and I did my best in my first few efforts for NG to ensure my career with them would be truly short lived. I made big time screw up after big time screw up.
It was a different type of shooting, you know? I was used to the New York method. That kind of played out like this: Get a phone call from an editor at a weekly publication in Manhattan. Say yes. Never, ever be able to reach that editor on the phone again. Make all the arrangements, Go shoot the job. A week was a long time. Six pages was a big story. Get in, get out. Process film. Deliver it in a breathless rush. Not hear anything. Call three weeks later. Finally get the editor on the phone. "Oh, hi. Yeah, Joe! It is Joe, right? That story that you shot? Oh, oh, yeah. Oh, yeah, uh, it was good, we liked it. Thanks. Gotta go to a meeting."
Have phone ring back, almost immediately. It's a call from that very same editor you were just talking with. That editor who now all of a sudden remembers you, and realizes you are standing there, somewhere, with enough time to make a phone call and this qualifies you as a warm body with a camera, and potential availability to solve a problem the managing editor just threw on his desk like a big, steaming turd. "Hi, yeah, uh, by the way, are you busy in the next two hours?"
(more…)