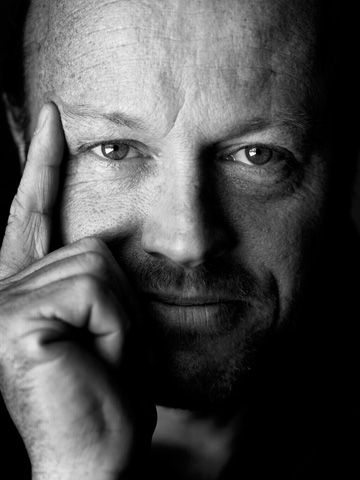 Let me start by saying that I've never blogged.
In fact "Blog" was one of those odd words that seemed to creep into our social consciousness one day completely out of the blue. No one had ever heard of a Blog and then all of a sudden everybody had one. It reminded me of the word 'scud". Nobody had ever heard of a 'scud' missile and then one day everybody seemed to have one of those too.
My using the word scud as an analogy is really no coincidence because the meaning of the verb 'scud' is: to move fast in a straight line because or as if driven by the wind: "we lie watching the clouds scudding across the sky".
This represents what Scott has been kind enough to let me blog to you about today; how the digital world has scudded into our lives and not only changed the images that we're making, but completely changed the process by which we make them.
Next, I'd like to say that I am not a hippie. The fact that I'm writing this blog from a tiny cabin in Woodstock is a coincidence. I've lived in New York City for 29 years and never really been to Woodstock. I'm here for the weekend and it's pouring rain, so how better to spend my time than to blog.
I'm not a hippie, but I do have one or two strongholds in my soul that were spawned by a kind of "hippieish" psychology referred to as "Gestalt" that was founded in Germany in 1912 but developed into a type of therapy used by the psychologist Fritz Pearls during the late 60's in Northern California.
One of the cornerstones of Gestalt therapy is attempting to be truly present, to attempt to live in the 'here and now'.
I recall this being something that was actually doable and a philosophy I tried to practice from time to time throughout my life with some success…up until several years ago.
But before I go on, here's a very brief synopsis of my career for those of you unfamiliar with my work.
My Dad was a very good amateur photographer and he gave me his 35mm Pentax camera when I was ten or eleven. He let me take photos then edit them from a contact sheet using a loupe and a grease pencil to outline my crops. He went to great expense allowing me the chance to choose and emend how I saw.

My Mother and sister photographed by my Father in 1958
By high school I was taking pictures regularly, mostly for the yearbook. I applied to Art College and by the end of my third year had taken every photography class in the program, so I moved to New York.
It was 1982 and just as difficult to break into the industry then as it is now. After a few months of working for whoever would hire me a fortunate set of circumstances landed me inside Annie Leibovitz's studio. I had no idea what I was doing so I started out loading film but over time learned the ropes and became her first assistant. I worked alongside Annie for three years.
In the two years that followed, I freelanced for several other top photographers including Robert Mapplethorpe and Steven Meisel.
When I ventured out on my own, my first assignment was to photograph a dance company. Those photos became the basis for my first portfolio. When I showed them to magazines they saw bodies in tights and promptly assigned me fitness stories to shoot. Which wasn't so bad because those exercise pictures helped get me a job photographing a series of twenty books for Time/Life on health, nutrition and fitness. The fitness work led to taking beauty pictures, which led to photographing actresses, which led to photographing mostly celebrities, eventually resulting in what I do now, which is primarily magazine work, television advertising, and movie posters.

Buena Vista Pictures, Los Angeles, 2006
I still shoot dancers and have been working exclusively with the Alvin Ailey American Dance Theater since 1999.

Alvin Ailey Dancers, New York, 2006
That's the shorthand version of my ten-year overnight success. Let's return to the idea of "here and now."
(This post contains minor PG-13 nudity/sexiness beyond this point. If you're offended by such things, please don't click "Read More.") (more…)