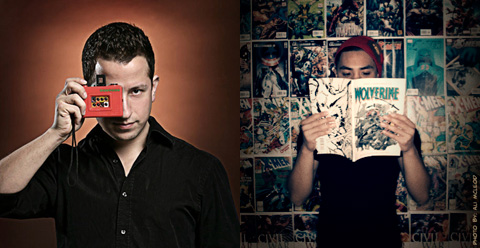 Hello everyone, it has been a very busy year and a half since I last did a Guest Blog Wednesday. I would like to thank Scott Kelby and Brad Moore for the chance to share what I have been up to with the community once again.
The busy year and a half has been filled with fighter jets, muscle cars, helicopters, armored tanks, jet-powered boats, rock stars, athletes and general adventure and mayhem. In other words, work has been loads of fun and I feel extremely lucky and thankful for every moment.  Here is a short video with highlights from the past year or two:
You may recall that I work very closely with my retoucher, Justin Paguia, who also was a previous Guest Blogger. About 3 years ago I decided that I wanted to accomplish something visually with my photography that I was unable technically to do on my own. I could imagine what I wanted in my head, but didn't have the time or advanced Photoshop skill to create these final images I dreamed. Thus, I began my adventure to search for a retoucher that I could establish a close working relationship with that would understand my style and my passion for the action/rock and roll/gasoline/bright colors/adventure. I did some Google searching and I asked for referrals. Nobody seemed to be the right fit for me until one day NY art director & stylist "Jersey" introduced me to Justin. We hit it off right away with our immature love for 80's action movies and similar artistic visions.
Over the coming months Justin and I would slowly train each other how to work in order to achieve the dynamic "look" I was striving to achieve.  Before each shoot/project/campaign I intend to be retouched, I will normally call/email Justin (he is NYC based and I am always on the road) to consult the creative concept I envision and what elements I would have to capture on-set (extra ground elements, sky, articles of clothing, various portrait poses, etc) to make his job easier. After 3 years of practice and training and experience, we have become quite a team. Justin won't retouch every shoot, but I always have him working on something.
Some of the best work in my portfolio (in my opinion) are images I did for myself or for my portfolio. If I were to give any photographer a piece of advice, it would be to always shoot something for yourself. Sure, we all have to pay the bills and you may say to yourself you are too busy doing the "bread and butter" jobs, but let me tell you, I am crazy busy doing photography and co-running a film company, but I make time for personal work because whenever I shoot something for myself that I am passionate about, new and better paying gigs come from it. Trust me on this.
Today I will be sharing with you two projects I did as personal projects and Justin will be chiming in with his retouching process. I hope you enjoy!