New Adventures in Photography
In 2000 I was a software developer living in Tucson, Arizona. I had been rock climbing for seven years, and taking pictures of my adventures. I was totally psyched on Galen Rowell's Art of Adventure Photography. I too wanted to share my passion for the great outdoors – not just how it looked, but how I felt about it and how I thought about it. Simple ideas like this make a young person reckless. I quit my job to "go pro." This was a hilarious idea by the way – I didn't actually stop doing software work on the side for another six years.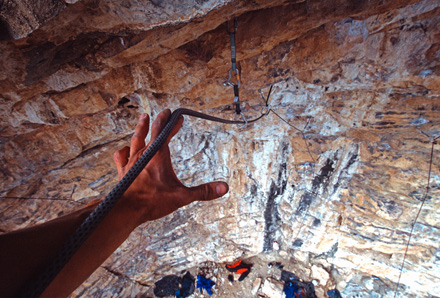 On the Sharp End. Self portrait from the Whetstone Mountains in Arizona.
My first publication was a 2-page spread in Outside Magazine. Climbing in the remote Whetstone Mountains of Southern Arizona, I made a photograph of my hand reaching out into a cave from 40 feet up, clipping my lead rope to the next protection point, depicting the first-person view of what it's like "on the sharp end" of the lead-rope.
I was hanging from a rope to get this shot of course, not actually climbing. After climbing the line once before, I thought about the idea for a photograph. I went back up with the camera (a Nikon F100) and spent some time getting myself in position for the shot. I contorted myself Superman-style to hold the rope with one hand, shoot with the other, and keep my feet and gear out of the frame. That's the way a lot of my "adventures" actually went. Out playing somewhere, I would get an idea, marinate on it for a while, and then come back later to create a photograph. (more…)