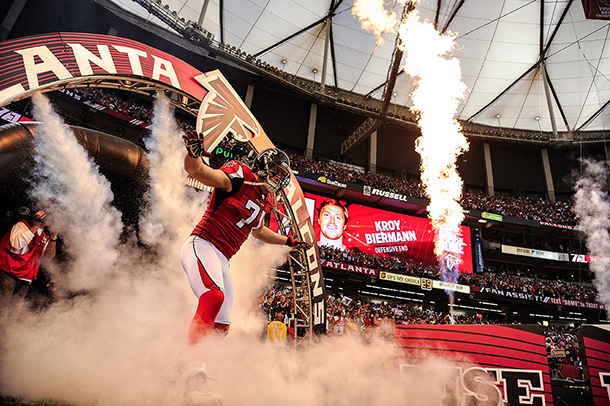 Above: One of my favorite shots from my remote cameras positioned right next to the Pyro. I particularly like the way his headshot and name appear on the giant video screen behind him, which honestly was a "happy accident."
OK, the outcome wasn't what we were hoping for, but it was a great game, and a great season for the Falcons, and I was just tickled to even be a small part of their post-season photo coverage team. Before we get to all the remote camera stuff, a little background on shooting the game: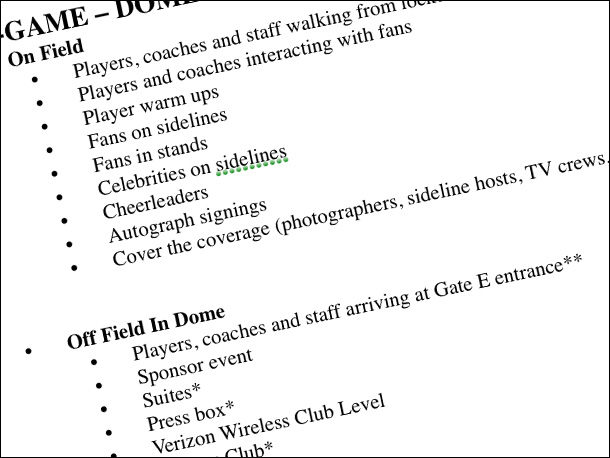 There were eight photographers covering the game for the Falcons (their regular crew of superstars led by Jimmy Cribbs, along with Michael Benford, Lynn Bass and Matt Lange), and we were all given a long assignment sheet (from Michael) of the shots we needed to cover before, during, and after the game (a small snippet is show above) in addition to covering the regular game action.  Michael knows I'm into the whole remote camera thing but we planned our most ambitious remote shoot yet.