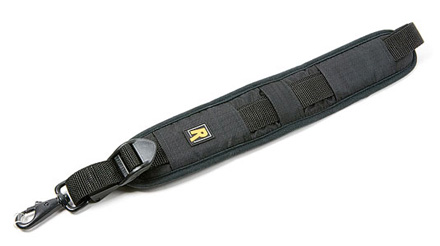 When I was hosting my Dunedin, Florida PhotoWalk (as part of the worldwide photowalk), I saw a photographer in my group, a very nice guy named David Rogers, using the handiest camera strap I've seen in while. It's called the Rapid R-Strap, and while I thought it was ideal for shooting in situations like a photowalk, I'm going to order one tonight for use with my 2nd camera when I'm shooting sports.
After talking with David about it, he offered to do a full review of it for the blog, and so, here you have it; the complete review from photographer David Rogers (Thanks David!).
Review: Rapid R-Strap from BlackRapid
The Worldwide PhotoWalk seemed a perfect opportunity for me to test the R-Strap from BlackRapid, Inc. I'm not the kind of person that likes to wear a tie let alone a 6lb. swinging weight around my neck so when I found out about this strap and the fact that it came with a 30-day return policy I felt I couldn't lose. If I didn't like it I'd send it back and be no worse off.
It aint going back! The simplicity of the design alone has you saying "why didn't I think of that." Truth is, much like the automatic kitty litter box, you probably did think of it but never did anything about it.
How it works:
The R-Strap is worn over one shoulder (my left) and crosses the body like a car seat belt or messenger bag. It attaches to the camera via the tripod socket on a large lens setup or the camera body when using smaller lenses. The camera is now hanging upside down at your side or just above your right butt cheek. In one very smooth motion you grab the camera with your right hand and swing it forward and away from your body up to your eye. Shoot!, then lower it back to your side and continue about your day.
[ed. Here's a quick video from the manufacturer showing the R-Strap in action]:
[kml_flashembed movie="http://www.youtube.com/v/14Q1IxI_Opw" width="425" height="350" wmode="transparent" /]
The greatest feature of this setup is the fact that your hands are free and your (more…)