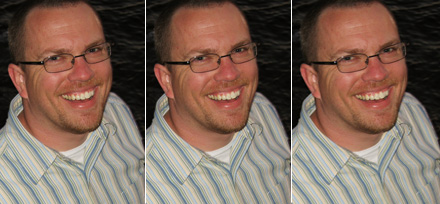 Adding Mood to a Photograph
This may sound a little silly coming from a certified Photoshop junkie, but my tendency when optimizing a photo is actually to try to make it look as close to reality as possible. Sure, I'll add a slight touch of "what I remember" to take it beyond "what it really was," but by and large my aim with Photoshop is to produce an image that accurately reflects the beautiful scene I chose to photograph in the first place.
But sometimes that just doesn't cut it.
I find the desire to push a photo beyond reality usually occurs when I'm a little disappointed with a photograph that I really thought would turn out better. Most often that disappointment is a result of having had an emotional response to the scene that can't adequately be captured in a simple photograph.
A recent trip to Japan provides a couple great examples of this. I started off in Tokyo, and was fascinated by many of the sights. I found myself particularly drawn to the small temples and shrines that hid behind and between large buildings on major streets in some of the busier parts of Tokyo. These temples and shrines provided a remarkable sanctuary, and some great photographic opportunities.
In one case there were three shrines that shared a courtyard, and a small cemetery adjacent to the courtyard. I'm always intrigued by cemeteries, particularly to learn about how different cultures honor those who have passed on. In the corner of this cemetery a collection of wooden planks with Japanese writing on them caught my eye. I was later told these were "prayer sticks" that would be placed at the gravesite by family or friends. I captured an image, confident it would convey the solemn tranquility of this place.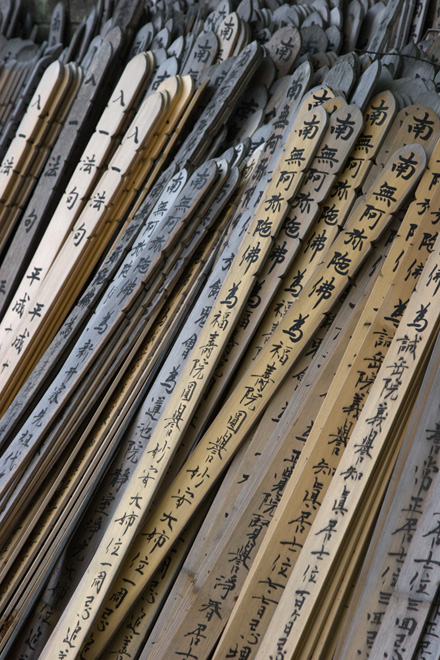 Somehow the image simply didn't elicit the feeling I was expecting. Sure, it is always a very different experience to view a photograph compared to the actual scene. So I started working with the image in Photoshop to see what I could come up with. I tried various adjustments, and then ventured into slightly more creative areas. I tried a black-and-white conversion. That helped. Then I applied a sepia-tone effect. Better. A boost in contrast and a vignette effect, and I was much happier with the image.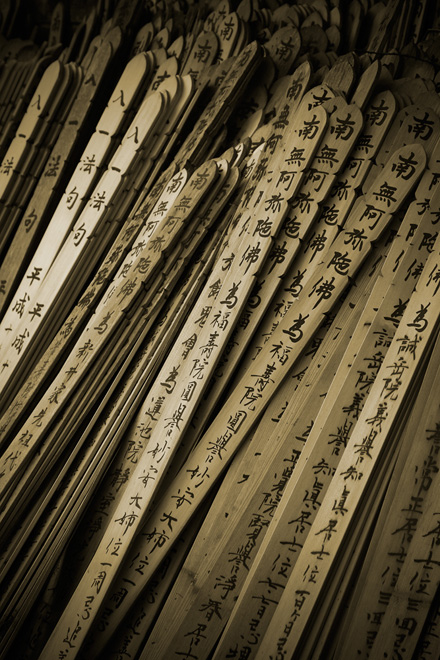 My next stop was Kyoto, and I knew I was in for a treat. This is a city with over 2,000 shrines and temples, 17 UNESCO World Heritage Sites, and a tremendous amount of history. It also contains many wonderful Zen gardens, and it seemed each one I visited was more calming than the one before it.
One garden in particular got me clicking the shutter more than usual (and "usual" is still