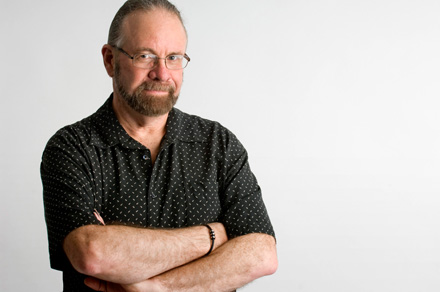 Guest Blog for Scott! When I was asked to write this blog I had no idea what to write about. What did I eat this morning? What am I doing this afternoon? My latest painting? I had no idea. Guest blog for Scott Kelby—the man that has written more books than I can count—that's a tall order!
As I tossed and turned thinking of what to write, I realized that previous guest bloggers were mostly photographers, retouchers and art directors—a virtual cornucopia of talents and skill sets. But they all had one thing in common—Photoshop.
As I write this blog I am still coming down from the excitement of Photoshop World that took place in Vegas this month, where once again, a vast number of people came together because of this one piece of remarkable software. People from all walks of life imaginable have this one thing in common.
As Adobe Photoshop celebrates its twentieth anniversary, it is interesting to look back at how this computer application changed the way we approach Imaging. As an example, just the other night I was channel switching and came across one of those crime investigation dramas where the verb "Photoshopped" was used three times!
There have been many changes to our workflow since Photoshop became one of our tools. I remember witnessing a major shift in the graphic arts industry back in the early 90s. Ad agencies all over New York City started dumping those giant, costly behemoths that were known as paint box systems. These giants took up valuable space and required a techie to run them. They were replaced with Macs directly on the art directors' desks.
The combination of digital photography and Photoshop dramatically changed our approach to imaging. Gone are the days…