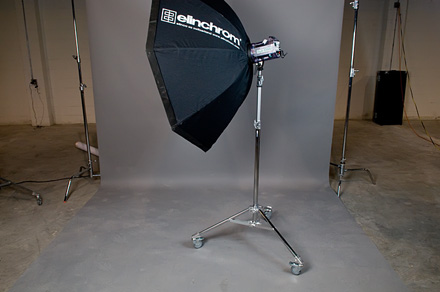 First, thanks to everyone who participated in my "Lighting Gear Week," last week. There were a lot of great follow-up questions, and I wanted to answer them as they were posted, but I've been on critical deadline on a new book, so I couldn't get a chance to answer them (at least not until now).
So, I put this together to address some of the questions from last week (and I'm paraphrasing some of the questions for clarity), and I hope you find it helpful. (NOTE: All five days are covered here, so for the other day's questions, make sure you click the MORE link below). Here goes:
Day 1: Budget Off Camera Flash
Q. I'm not the getting the whole "firing the flash through the umbrella on a stand thing?" Can you show us a photo of how that looks?
A. Sure (see the photo below).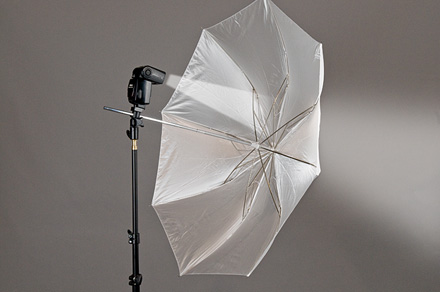 Q. Nikon's SB-600 is a lot cheaper than the SB-800. Can I get away with using it instead?
A. Yes, technically you could get away with it, but honestly, I've never met anyone who bought an SB-600 that at one point didn't say, "I wish I'd gone ahead and bought the SB-800," so I can't recommend it with a clear conscience. I've also never met a single person who bought the SB-800, who later said "I wish I'd bought the cheaper model with less features."
Q. Can you guys do some videos on Kelby Training.com using the off camera flashes?
A. Joe McNally, the master of on-location flash, has finished recording a class for us, live on location and I've seen some of it, and was there on location for other parts, and it is absolutely brilliant. I've never seen anything like it (I'll do a post when it goes live on the site).