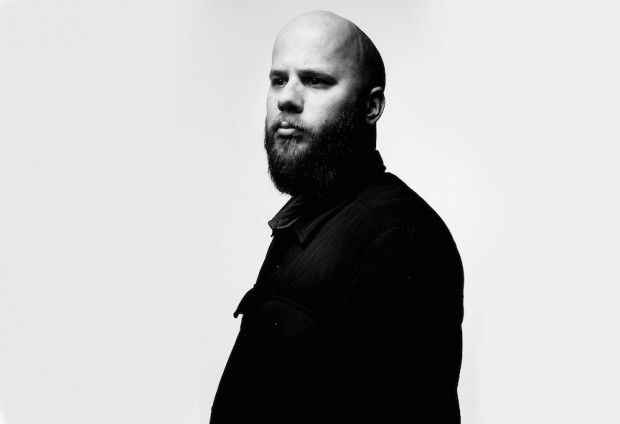 Editor's Note: When I think of all time favorite guest posts, the ones from Nick Fancher are among the first that come to mind. I remember the first time I saw Nick's work and how strikingly creative, yet how approachable he makes it look with the breakdowns of his setups. Enjoy this post from 2015 and put some of his tips to use on your next project! And make sure you check out his newest work for updated inspiration.
Hello everyone. My name is Nick Fancher and I'm your guest blogger today. In case you don't know me (which is likely the case), I am a Columbus, Ohio based portrait and commercial photographer. A couple of weeks ago I released Studio Anywhere: A Photographer's Guide to Shooting in Unconventional Locations, on Peachpit Press. The idea behind the book is that photographers can get away with shooting without a conventional studio most of the time, as long as they can learn to make the most of their environments; all with the use of minimal, affordable gear.
This idea was born out of necessity. When I was in New York City last year, I wanted to do some test shooting in my free time. I began looking around for studios to rent for the day, and found the average price to be around $1,000. It'd be one thing if this was for a paying client, who would be footing the bill, but this was for unpaid, personal work. And even if I did shell out the $1,000, all the models would then be forced to come to me, which for an unpaid test shoot, would not exactly be a motivating factor for them. Instead, I opted to meet them at their homes, realizing that all I really needed was a white wall, and every home has at least one white wall. And it worked out just fine.
Once I returned to Columbus, I started putting this practice to test, now opting to meet clients at their homes and offices for shoots. Not only did it allow for me to happen upon some pretty amazing environments to shoot in, I think it also gave me a +1 for convenience, in the eyes of the clients. It also led me to some particularly small spaces, which forced me to get creative with my lighting. As you may know, most of the time you need your light several feet away from your subject, in order to get a larger light spread. But if, say, your client lives in a 200 square foot apartment and the only spot to shoot is the spot next to his bed in his living room, you don't have that luxury. To make my light source larger and softer, I turned the flash in the direction of the white wall on the other side of his bed and it worked smashingly.
You may have noticed in the previous setup shot that there are white boards propped up behind the subject. I have two white and two black, 40×60" sheets of foam core that I bring with me to every shoot (leaving them in the car until I see if I actually need them). I often end up needing to use them in a variety of ways. Often I tape two boards together to make a v-flat, in order to block a light source or reflect light. Sometimes I use them as a backdrop, as in the previous scenario. Other times I stack them up so the model can stand on them, if I need a full body shot and the room has an unsightly floor, such as shag carpet.
My rule of thumb is to travel as light as possible, since I typically work without an assistant. I want to minimize the amount of trips I have to make to my car. So if I am heading in to shoot in an unfamiliar space, all I take in with me is my camera bag, a light stand and an umbrella, leaving my tripod, sandbags, additional stands and white boards in the car unless they are absolutely needed. And once I get a lay of the land, I scope out viable shoot areas. Large white walls are a plus. Areas with concrete or gloss wood floors will reflect light and make seamless, full body portraits a lot easier.
I've even used grey walls or cream colored walls without issue. Of course white balance isn't much of an issue when your two lights are gelled red and cyan.
Once you start working this way, you start noticing things that you can use to your advantage, such as a nice, red wall. I made a v-flat out of my two black boards and used a white board as a bounce, opposite the red wall. By firing a flash into the white and red surfaces on either side of the model, I had a large, soft spread on a black background, creating a stylized final shot.
Want a variety of backdrops for little to no cost? Browse royalty-free images on Google or buy cheap stock images to project onto a white wall. It's an old Hollywood trick, but it's a cool one to play with.
What if you'e just starting out and you don't own a strobe? Do you have a garage? It's a great spot for shaping available light. It's especially effective on a sunny day. By placing your subject closer or farther away from the open garage door, you can control the amount of light falling on them.
Achieving a blacked out environment, sometimes referred to as "invisible black," is a lot easier than you may think. Find a background that's a mid to dark tone, not in direct sunlight. Make sure that you have enough space to keep the subject and light(s) away from said background. Get an ambient exposure and then close down at least three stops to get it to go dark/black. Add your light, output set to a high enough output to properly illuminate your subject. Flag light as needed, to keep it from spilling on to background, by using a grid, zooming in the flash head, angling the light away from the background, etc.
Sometimes I want to add natural, visual elements to a shot, such as flowers or tall grass. To do this, take a black or white v-flat to a park and place it in front of said flower/grass element and have the subject sit/stand in the v-flat. Side note: if your camera case is nice and sturdy as is my Pelican 1510 case, it makes a fantastic chair for your subject.
As I mentioned earlier, I typically work alone, without an assistant. This means that I am traveling light, without sandbags, for examples. It also means that I can't put a large light modifier on my flash, such as an umbrella, without it blowing over with the smallest breeze. So I am usually looking for ways to soften a bare flash, when I am in the field. As was the case for the living room scenarios, lighter, neutral-colored walls are great for reflecting light. Simply place your light 2-3 feet away from the wall, zooming in the head, if applicable. Angle the light into the wall so that it's heading in the direction of the subject (think banking a pool shot).
I realize that many of you are likely already using some of these techniques/hacks, and you may even have some that I have not yet heard of or tried. Please use the comment section for sharing your ideas and experiments. If you feel so inclined, pick up a copy of my book/ebook, Studio Anywhere, here. Thanks for reading and happy shooting!
---
You can see more of Nick's work at NickFancher.com, and follow him on Instagram and YouTube.