Editor's Note: We're just a day away from December, so I wanted to bring back this fantastic 2019 post from Gilmar Smith about creating more exciting holiday cards. Enjoy!
Holiday Cards Don't Have To Be Boring…
For the last few years, I have made a goal of mine to create the most amazing memories with my kids, both in real life and photography-wise. Of course, it is a mission of mine to make our Holiday Card an epic one every year. Who wants to receive another boring Holiday card anyways?
Our Holiday Cards and my Bad Santa series were personal projects I started doing for fun, and they turned out to be the greatest marketing tool for my business during the Holiday Season. 
This year, I started booking Holiday Cards sessions even before Halloween. 
As the song says, Holiday is the most wonderful time of the year, and it is also the perfect time for you as a photographer to make money. 
Mostly everybody I know sends Holiday Cards to their family and friends. A big part of that group prefers to send family pictures instead of store-bought Holiday Cards. 
I am sure you usually receive pretty much the same version of a Holiday card from different families. Matching outfits, fake smiles, all of them in front of a Christmas Tree. But not all Holiday Cards have to be like that! 
What I look to capture on Holiday Card sessions is a little bit of everyone's personality in one image. For me to be able to do that, I make sure to collect as much information as possible from my client's family. Some of my clients have already a concept picked by the time they book the sessions, and some others need a little help choosing a theme. That's when the info I collect from them comes handy. I go ahead and customize inspiration boards for them and even draw a few sketches. 
Then my job is to escalate their concept to the epic level!
Having shot multiple clients' Holiday Cards through the years, I can also say it's a very competitive time between family and friends, but the fun kind. Once you send out your first fun Holiday Card, there's no going back. They will be expected every year.
This family recreates a rock album cover every year for their Holiday Card… Can you guess which one is this?
This family wanted a portrait of the chaos that goes behind doors… I can relate!
Kitchen portraits are always fun!
This lovely classic portrait:
Here's a beach theme without having to pray to the weather Gods for good weather or having to spend a few days getting rid of the sand.
Our Holiday Card this year was inspired by our beloved state of Florida and its fumbling superhero, the Florida man. Who every year gives us the most embarrassing, outrageous, cringy, dumb, awkward, funny, infuriating, and even sometimes, inspiring news stories.
I built up the set in my garage with a ton of Props I got from Spectacular Themes. I really wanted to have a wooden fence as a background, but I couldn't fit anything like that in my car. After giving it a little thought, I remembered I have laminated wooden floor that I sometimes use on portraits, so I put it against the garage door and BAM! Instant wooden fence!
I didn't have to spend money on outfits; we used what we had, and of course, I had to wear my Santa suit like every year.
After setting all that up in my garage, I wasn't going to shoot just one picture. We created a fun little series, and my kids made sure to stamp their personalities on them.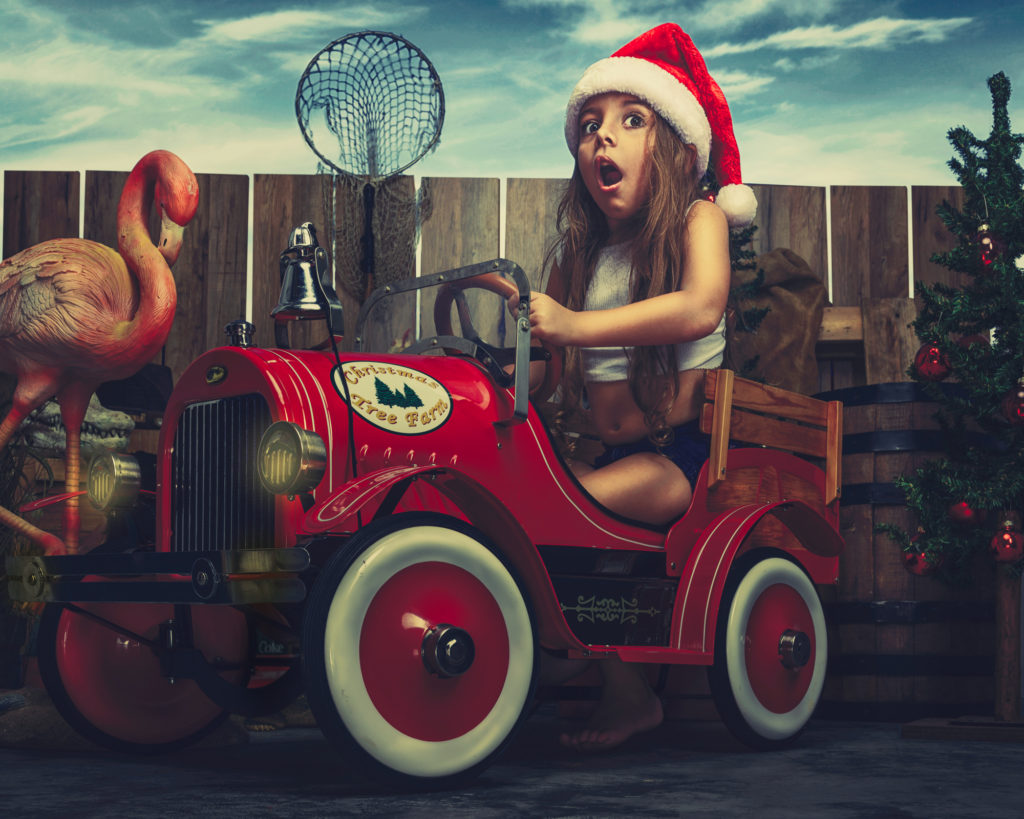 Since I managed to get all the props I wanted, I only had to Photoshop the sky, and I added a little bit of my personal retouching style.
All of these images were shot with my Nikon Z7 and a 24-70mm Z mount lens on my 3 Legged Thing Leo (except for Christmas car one, that was shot with my camera on my Platypod Max). I used two Elinchrom BXRi 500 strobes: one with an octa on camera right and the other one with a strip light set horizontally on a background stand for fill. I also had a Vflats from V-Flat World on each side of the set to bounce light.
This is my busiest time of the year, but it is also the most fun because I get to be creative doing the kind of work I love.
I hope you have a fantastic Holiday Season!
Here are our Holiday Cards from the previous years:
---
You can see more of Gilmar's work at GilmarPhotography.com, and keep up with her on Instagram, Facebook, Pinterest, and Twitter.