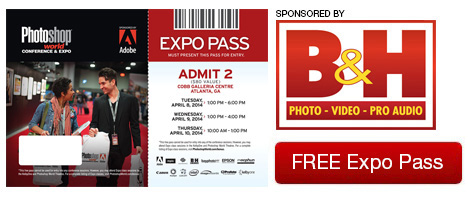 Photoshop World Expo
If you're in the Atlanta area (or feel like making a road trip) next week, you should come by the Photoshop World Expo and check out the FREE Bonus Classes in the KelbyOne and Photoshop World Booths! Whether you're looking for lessons on small flash, building a portfolio, 3D printing, compositing, using Lightroom, or any other number of things, you can find it at the Expo. You can also check out the latest stuff from Adobe, Canon, Epson, Macphun, Mpix, SmugMug, Squarespace, and lots more.
And if you decide you want to check out the conference classes as well, you can pick up a one-day pass for just $249 once you're there!
KelbyOne Live
Want to spend a day with Scott Kelby, RC Concepcion, or Ben Willmore? Check out these seminar tours!
Shoot Like A Pro with Scott Kelby
Apr 14 - Salt Lake City, UT
May 13 - Portland, OR
Photoshop for Photographers with RC Concepcion
Apr 11 - Washington, DC
May 20 - Hartford, CT
Photoshop Creativity with Ben Willmore
Apr 16 - Chicago, IL
May 7 - Philadelphia, PA
May 9 - South San Francisco, CA
May 28 - Sacramento, CA
You can check out the full schedule for seminars through March! And leave a comment for your chance to win a ticket to one of these events!
Photographing Vintage Auto Americana with Bill Fortney
Join outdoor photographer and author Bill Fortney for an immersive trip through vintage auto Americana as he explores over 6 miles of trails filled with old cars, trucks, and the many other things that can be found at Old Car City, located about 45 minutes outside Atlanta, GA. There are classic treasures at every turn and Bill walks you through his gear, philosophy, and techniques for shooting on this kind of special self-assignment. From wide environmental portraits of a rusting DeSoto to up-close and personal gritty macros of decaying hood ornaments, Bill digs deep and shares from his wealth of tips and tricks to inspire you to get out to your nearest junkyard and have your own photographic adventure.
Now, you may be thinking, this class came out a while back so why is it being mentioned again? Well, Bill Fortney himself is offering up a FREE ONE DAY SHOOT at Old Car City to one lucky person! Leave a comment for your chance to spend a day shooting vintage cars with Bill, and a chance to see this class for free!
Click2Click with Moose Peterson
Moose Peterson's Click2Click new photography and digital darkroom classes start shortly. The classes Moose says can be summed up simply, "to give you the confidence in your camera and post processing so you know everything that is going to happen when you go Click2Click." KelbyOne members get a 10% discount, so to learn more and to get registered, click here.
Leave a comment for your chance to check out one of Moose's KelbyOne classes for free!
Last Week's Winners
KelbyOne Live Ticket
– Jim
KelbyOne Class
– Holly Tarquino
Mastering The Model Shoot by Frank Doorhof
– Michael Reeves
If you're one of the lucky winners, we'll be in touch soon. Have a great Thursday!