Click on the picture to see it bigger, or see it in Flickr
Hey everyone, RC here. I was chatting with Scott a couple of days ago about my experiences at the Star Wars Celebration that just happened in Orlando, FL – and he thought it a good idea to share them here on the blog. I was happy to oblige! [NOTE: RC is being kind here. I absolutely loved his images, and the story behind them, and I begged him to do a post about it—Scott].
I walked into this opportunity not really being a Star Wars fan. I'd seen the second half of the movies as a kid, but never really got around to watching the three prequels. For the most part, I don't watch a lot of movies, so it wasn't something that I felt I was missing out on.
Why I Went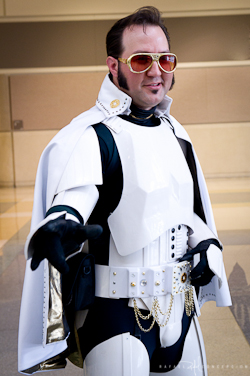 What attracted me to go to this convention was passion. I'm a passionate person by nature – you kinda have to be to work here. Because of that, I find myself attached to people who are really into being passionate about things. I don't follow sports, but i've always wanted to be friends with one of those superfans who paint themselves with the letter D and hang out by a stadium.
I mean, i'm the guy who drove by myself a ton of hours to go to the "RC Cola Moonpie Festival". I love talking to people about the things that they love talking about. The sparkle in a person's eye is just awesome- I guess it's why I enjoy environmental portraiture as much as I do. To be able to go to a place where people get dressed up to pay tribute to something that they love was just something that I couldn't pass up.
I packed a bunch of lights in my car and headed out to the convention. I was prepared for anything – from small lights to a pack and head scenario. More often than not, i'm usually the guy that's packing 6 strobes so this isn't entirely out of character. It's the McNally in me. Last minute – I threw my tripod in the car, not really knowing why.
Check out the rest of the story by clicking on the link below…