If you follow me on Twitter or Facebook, you probably saw a post or two of mine looking for a cool car to shoot after my seminar in Phoenix. Well I found one. Actually, two.
Last year, I got to shoot a classic Cobra and a brand new Corvette at photographer Paul Markow's studio in Phoenix (a super-nice guy with a killer studio — big enough to shoot a car no problem, and a cove roof to bounce the lights off). This year I wound up shooting a Maserati GranTurismo — seen above (believe it or not, I rented it from Enterprise rent-a-car in Phoenix for a song), and then Adam Thaler, a photographer who follows me on Facebook, saw my search for an exotic car and brought over a red Ferrari California — so the shoot was on!
Here's the flip side of the first shot, but not shot from a low an angle (see the production shot below it).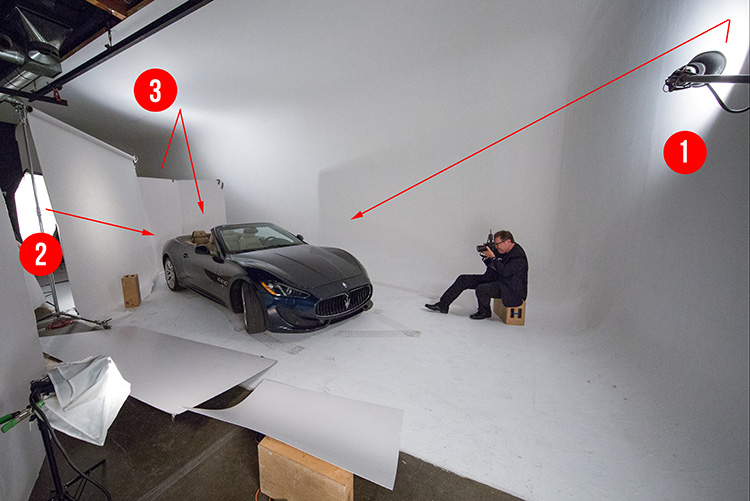 Here's the behind the scenes production shot of that shot you just saw (photo by Brad). It's three lights total: (1) A bare flash with metal reflector bouncing off the upper wall, hitting the white roof of the cove and bouncing back to light the front and hood of the car. Almost at full power. (2) This is a large Octabank shooting through a large 12′ roll of white seamless paper, to soften and spread the light (and eliminate reflections), and (3) is another bare flash with a reflector on a nightstand aiming up at the white cove roof and bouncing back down to light the rear section of the car. We had to put two white V-flat reflectors back there to hide the lightstand and strobe, and minimize reflection.
By the way — when I say "we" it was a team effort with the awesome Robert Humanski (who helped us out last time, and again this time like you cannot believe), who works with Paul Markow and has access to all the gear, reflectors, bounce cards and everything we need, Also on the set helping a ton was photographer Nickolas Pappagallo. (or ""Nicky bag a-donuts" as we call him.  That's his Jersey street name…ya know, if he was from Jersey). Anyway, these guys were awesome and did the work of 10 men (as Brad and I noshed on gourmet pizza and chicken wings). But I digress.
Above: Here's the backside of the GranTurismo. I usually shoot from a really low angle, but I wanted to be able to see part of the interior, so I took this one standing.
Above: You know I have to get some up close Detail Shots, and I'm using Tim Wallace's technique of shooting with a single large strip bank (all the other lights are turned off), and getting up close with a wide-angle lens and shooting at f/22 so the room goes dark and the only thing lighting the close up car details is that strip bank. Brad looks pretty enthusiastic in this shot, wouldn't ya say? ;-)  Anyway, for these shots, I like to use camera with an articulating rear screen, so I don't have to spend so much time on my knees on a hard wood floor (the day will come kiddies, when this stuff matters), like the Canon 70D, which has a perfect swivel-out screen for stuff like this. So, that's the behind-the-scenes shot of our set-up (that's an Elinchrom ELB 400 battery pack and head).
Above: Here's a few of the detail shots of the Masterti.
Now, it's Ferrari time. Whoo Hoo!!! :)
What a beautiful car!!! It drove in the studio and we were all like, "Wow…." The sound of a Ferrari is pretty amazing unto itself, and inside that studio it sounded like 5,000 hp. It just purred!!!
Above: here's the behind-the-scenes shot of making that shot. It's the same three lights as before, in pretty much the same exact position, but we needed to add this large white card on the floor — here's why. As soon as I took my first test shot, the side of the car looked flat — you didn't see the beautiful curve on the side of the car at all. There were no highlights — it was just flat red, so I had the guys put this large bounce card on the floor and as soon as they started to walk it into place, I could see that was what it needed.
Just putting the bounce card there made a difference (see the highlight running alongside the bottom half of the side of the car?), but I didn't think that highlight was bright enough, so we added another strobe and aimed it straight down at the bounce car (as seen above right) so we could control the amount of white highlight on the side of the car. That made all the difference.
Above: This might be my favorite of the day. Love the angle and the highlights front and back. Such a beautiful automobile. No, it's not an automobile. It's a Ferrari.
Above: Here's a behind-the-scenes with Robert (L) and Nicky P (R) doing what you spend literally most of your time doing during any car shoot — hiding things that reflect in the car. You spend most of your time either hiding stuff, or hiding stuff that reflects because shooting a car is like shooting into a mirror — it reflects everything. These huge white V-flats are life savers because you can use them for hiding studio stuff, or reflections, or for creating reflections. They're literally "gold" in situations like this.
Above: You can see my shooting position here — and that I'm shooting tethered. You can also see both of the main lights pretty well here — the one to my right, and the one in the back behind the car peeking up behind the white v-flats. We also added a small softbox to add some fill light to the front wheel and front of the car (it was a little dark there). So, now we're using a total of four lights: (1) Front right aiming up. (2) Back light aiming up at the ceiling. (3) Big octa still shooting through that white seamless (4) The fill light you see to my left.
Above: here's some more detail shots just for fun.
Above: Same set-up for shooting detail shots on the Ferrari. Although you're seeing the modeling light on the flash in the back aiming up at the ceiling, the strobe itself is not triggering — it's off. You can see my laptop on the apple crate in the back between me and car. Yes, I'm shooting tethered. Really helps with a car shoot because you can see all the things that are reflecting that you're MUCH better off to deal with in the studio, rather than in post. Retouching cars is pretty brutal.
Above: Here's one for the road — the GranTurismo straight on and looking aggressive.
Many thanks to my team: Robert Humanski and Nick Pappagallo who were incredibly helpful and fun (plus, they know a really good pizza place, which is a plus), and to Dave Gales who helped out, along with Brad who had us all cracking up as usual. Of course, thanks to the awesome Paul Markow for letting us mess up his studio — very gracious of him indeed.
Also, thanks to Adam Thaler and his Dad Don for loaning us your awesome Ferrari. What a beaut!
And, thanks to you guys here for letting me share my car shoot in Phoenix, Part 2 with you. :)
Best,
-Scott